Hampton Roads Club:

The club is hosting a scavenger hunt! For more information go
HERE
.
---
Goochland Club:

Woodchucking update – the club had a banner year for the Woodchucking Project with about 100 free loads of wood delivered and over $13,000 in gross wood sales. In late February, because of extremely high demand for sale wood, the club realized that the efforts to rebuild stock for next season were seriously behind and they increased their efforts to get restocked for next season.
The picture shows the outcome of that effort. Not only do they have a really good supply of wood already split to start next season, they have successfully shifted the operating model to have commercial tree services and contractors bring wood directly to the wood yard to streamline the efforts making better use of manpower. This is a big change and it will hopefully allow the club to continue scaling up the operation to accommodate more free and sale wood offerings.
AND…
At a recent meeting, Club Foundation Chair Bonnie Field recognized new Paul Harris Fellow and multiple Paul Harris Fellow members. The Paul Harris Fellow recognition acknowledges individuals who contribute, or who have contributions made in their name, of $1,000 or more to the Rotary International Foundation.
---
Prince George Club:

Prince George Rotarians recently spent time cleaning up the James River at the James River National Wildlife Refuge. Twelve large bags of trash, three car tires, two tractor tires, plastic water tank, and LOTS of other debris and trash were gathered.
---
Hanover County Club:

Hanover Rotary Club was pleased to honor the winners of the 2021 Essay Contest recently. The winners hailed from John Gandy Elementary, South Anna Elementary, and the Hanover Online School. The winners read their essays and were presented with certificates, a check, gift certificates from Roma Restaurant and Chick-fil-a, and a cookie (courtesy of Panera Bread).
The fifth grade students wrote essays about the Rotary 4-way Test and how they could apply it in their daily lives.
This is the seventh year the club has sponsored this Essay Contest for fifth grade students in Hanover County.
---
Petersburg Club:
submitted by PDG Bill Pollard
"Today I attended the Petersburg Rotary Club meeting where the club recognized Mom and Larry Tucker who both passed away this past January. The club awarded Larry and Mom with the club's Virginia B. Cherry Service Above Self Award.
Mom joined the club in 1992 when I invited her to join the club. She was a proud Rotarian for 28 years. She served as club president at the age of 80 when the club celebrated its 100th anniversary. Her grandfather was a member of the Asheville, NC Rotary Club.
Larry was the chairman of Virginia Commonwealth Bank (now Blue Ridge Bank) when I joined the bank in 2015. Rotarian and dear friend Jimbo VanLandingham made a heart-felt presentation honoring Mom and Larry."
AND…
Submitted by
Bill Benson, AG
:
Recently the Petersburg Club honored Joanne Norman as the Rotarian of the Year for the Rotary Club Of Petersburg. JoAnne has been a Rotarian since 1994, is a Paul Harris Fellow, and currently serves the Club Treasurer, Foundation Chair, Scholarship Chair and Community Service Chair. The Petersburg Club has had an extremely successful year and as Club President Betty Hobbs stated "It would not have happened without JoAnne".
---
Ashland Club:
The Ashland Club welcomed their newest member - Jennifer Schloss - inducted by Membership Chair Mark Smith and Club Secretary Jan Clemens.
---
New Kent Club:

Club members gathered together in an effort to assemble a swing set, but there were no instructions included and the internet was no help. Initially they were only able to get the rubber mats down.
Then after three hot days and 68 pages of instructions they finished the play set for a local group.
Thanks to the members who came out to work on this project - especially Aaron & Dan, who are not club members and members Tony & Cabell who worked all 3 days.
AND
Congratulations to New Kent High School seniors who are recipients of the Rotary Club of New Kent Scholarships. President Brent Bohannon spoke to them on living by the 4-way test.
---
Newport News Club:

Recently the Rotary Club of Newport News members were honored to have the recipients of their club's charitable donations attend and provide lightning-quick talks on their organizations including An Achievable Dream, Fear 2 Freedom, Virginia Center for Inclusive Communities, N.N. Public Art Foundation, Port Warwick Foundation, Startwheel, Faith Recovery, Soundscapes and Thrive!
---
South Hill Club
:
The South Hill Rotary Club and The South Hill Lions Club teamed up this year for the Highway Cleanup Project on their adopted highway section from Farrar Funeral Home to the interstate near Loves. The Rotary Club does this during the year in an effort to keep the town looking its best for visitors. The Lions Club joined in to help to do their part for their environmental efforts.
Photo by Lisa Clary
AND…
The South Hill Rotary Club presented $1000 scholarships to six Park View High School students this year as they pursue their college goals.
Pictured: Rotary Members Lisa Clary, Randy Cash, students Mark Arrington II, Luke Richey, Kaitlyn Campbell, Mackenzie Bowen, Joshua Lipscomb, Ella Patton, Club Vice President Lynn Ellis and Club President Keith Ellis.
AND…
Kenston Forest School seniors, Austin Dornak and Ariana Mannino are the recipients of the South Hill Rotary Dr. Thomas and Ann Fitzgerald $1,000 Scholarship. Mr. Keith Ellis, South Hill Rotary President, presented the certificates to Miss Dornak and Miss Mannino, at Kenston Forest School. The Rotary Club will send the $1,000 scholarships to the University of Texas at Austin, where Miss Dornak plans to attend in the fall and Virginia Commonwealth University, where Miss Mannino will attend in the fall.
Picture 0574 Miss Dornak is the daughter of LJ and Kim Dornak of South Hill.
Picture 0581 Miss Mannino is the daughter of Cesare and Mary Ellen Mannino of South Hill. Pictured are the young ladies with Club President Keith Ellis and Vice President Lynn Ellis.
AND…
The South Hill Rotary Club made a donation of baby items from members of the club to The Selah Center in Clarksville last week. Ruth McDonald, Exec. Director of the Selah Center accepted the donations. The Selah Center's purpose is "Helping Pregnant Women Make Choices That Will Save Lifetimes" for both the child and the parent(s). Through their Earn While You Learn curriculum, they offer both hope and help to those who need it most. It has led to many lives being saved and for those who chose life for their babies to learn, grow, and understand how to be good mothers to their children. By attending incentive classes they earn Boutique Bucks that may be redeemed at their boutique for diapers, wipes, children's clothing, and other essential items for life with little ones. For more in information or to make a donation contact 434-362-2207.
Pictured: Charles Wright, Lynn Ellis, Ruth McDonald, Keith Ellis, Lisa Clary and Jimmie Keith Crowder
.
---
Huguenot Trail Club: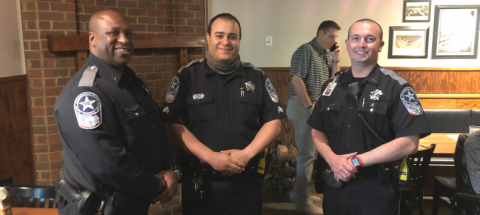 First Responder's Day - April 2021
Recently the club hosted Chesterfield County Sheriff's Office Employee of the Year, Sgt. E. Magg, along with his colleagues, First Lt. L.A. Ford, and Lt. M. Franz. Sgt. E. Magg held three different assignments over the course of 2020 and was recently awarded a well-deserved promotion. Chesterfield County Sheriff's Department currently has about 230 employees and they manage around 1000 inmates throughout the County.
AND…
Thanks to everyone's support and help with the golfing event last month, we were able to present James Howard with a check for
VAU Veterans and Athletes United
. In addition to VAU, James is the President & Founder of
REACHcycles - Richmond Empowering Abilities for CHildren with Cycles
. This is a non-profit that provides mobility and independence to children and Veterans with disabilities through adapted cycles. He anticipates hosting another bike building event in July 2021--- details to come!
---
James City County Satellite Club:

James City County Satellite Club received a thank you for helping to celebrate the school's fabulous teachers during Teacher Appreciation Week by baking and boxing delicious cookies for the James River Elementary teachers and staff to enjoy.
AND…
submitted by Neva Lynde
The Rotary Satellite Club of James City County continues its service at the Williamsburg Salvation Army Mobile Food Pantry. Joining with volunteers from the RC of The Historic Triangle and other organizations, the Satellite registers clients for the food pantry to meet the continuing need for food support throughout the community.
---
Warwick at City Center Club:
Submitted by Jennifer Daknis
Warwick at City Center Rotarians recently participated in a service project with SMART Beginnings of the Virginia Peninsula by spreading mulch, planting flowers and laying gravel for the new outdoor learning environment at Resurrection Lutheran Church.
---
Bon Air Club:
---
Petersburg Lunch and Petersburg Breakfast Club
will be holding their 14th Annual Golf Tournament on September 10, at Dogwood Trace Golf Course, Petersburg. For details go
HERE
.